Winter Express Indoor Championships
Date:  Sunday, March 16, 2014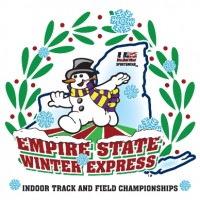 Location:  University at Albany Sefcu Arena and adjacent 'Bubble';  1400 Washington Ave., Albany, NY  12203
Directions:  Click here for Googlemaps.
Start time:  2:00pm,
Packet/Bib pickup:  1:00pm in the Sefcu Arena.  Preregistration strongly encouraged.  Day of meet registration incurs an additional $10 late fee and may delay the start time.
Sefcu Track Events:  55m, 200m, 400m, 800m, 1500m, 3000m, 1500m RW, 55HH, 4×200, 4×400, 4×800
Order of Track Events:  1500m Racewalk; 4×200 Relay; 55m HH; 4×800 Relay; 200m Dash; 1500m Run 400m Dash; 3000m Run; 800m Run; 55m Dash; 4×400 Relay.  Each runner is responsible for counting their own laps or recruiting a coach/teammate to keep count.
Sefcu Field Events: Long Jump, Triple Jump, High  Jump
Bubble Events: Pole Vault, Shot Put and Weight Throw.   There will be no implement inspection.
Eligiblility:  All age groups allowed.    USATF membership not required.  Midgets and younger are allowed three events.  Youth and older may enter four events.  Relays do not count toward the limit.
Age Divisions:  Youth age divisions are determined by the year of birth.  Primary – 2006 +; Bantam – 2005-2004; Midget – 2003-2002; Youth – 2001-2000; Juniors – 1999-1998; Seniors – 1997-1996 (This division includes those athletes born after August 3, 1995.)  Open and Masters age divisions are determined by your age on the day of the meet.
Entrance Fees:  Preregistration rate:  Youth $10;  Open/Masters $25;   There is a day of meet penalty of an additional $10 for late registration.
Registration Deadline:  Wednesday, March 12, 2014.