Anthony Mills, Sr.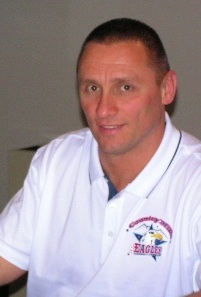 At the age of…well, perhaps that is an insignificant detail that needs not be disclosed at this point. With more than 20 years of experience in teaching, coaching and raising children, and with more than 40 years of experiencing tens of thousands of people, there are very few things that Head Coach Anthony Mills has not seen.
Starting his teaching career at the age of 16 as Athletic Director for a local Summer Camp program, there were no other interests for a career than working with young people. With a coaching career that began with "campers" vs. "staff" competitions (lofty ambitions), three consecutive losses in Flag Football, Soccer, and Softball, made him yearn to be a winning coach from that moment forward. However, disappointment followed quickly when a very solid High School Football career came up short when he was not recruited as an Offensive Guard due to his "lack of size". This in turn made him focus completely on a very intense Strength Training program, which helped him to develop much needed upper  and lower body power.
He departed Hudson Valley Community College to attend a small Division III College in an unknown town named Wilmore, KY.  Asbury College became home for the next three years as education took center stage. But, there was something lacking from college life (no it wasn't a girlfriend), it was the desire for competition. The Army slogan, "Be All That You Can Be!" rang loud in his mind and Flag Football just didn't fill the void. That was when he first considered Track & Field. With his new found strength, it seemed appropriate to enter the weight events of Shot Put and Discus. "I used to go to meets, throw three times and my input for the meet was over. I hated spending 20 minutes warming up and 15 minutes throwing. I just had to do more", says Coach Mills. He adds, "That was when I decided to enter as many events as I could be competitive in." Those events were the 100m, 200m, 400m 4 x 100m Relay, 4 x 400m Relay, and Javelin. "I was frustrated expending so much energy just to see the Shot go a few feet! When a freshman from Pennsylvania arrived and I saw him throw the Javelin as far as he did, I immediately fell in love with the idea of throwing something that far. From that point forward, Javelin and Discus became my two key interests" Coach Mills recalls.
A three time NAIA Nationals Qualifier, and still the Asbury College record holder in the Discus, 4 x 100m Relay, and the 4 x 400m Relay, Coach Mills has begun the process of imparting his experiences to his athletes. With only one National Junior Olympic qualifier in 2001, (his oldest son Anthony Jr., who qualified in the Shot Put, Discus, and Javelin), the number has grown in 2005 to 22 athletes spanning nearly every aspect of Track & Field.  From that point on, there has been a representative of the Country Mills Eagles at the National Junior Olympic Championships each year.
Currently Coach Mills resides in Ballston Lake, NY with his lovely wife Lisa of 27 years (he met her at Asbury College and they were married upon his graduation in 1984), and their son, Brandon. He also has a son, Anthony Mills, Jr, living in Lansingburgh, NY and a daughter, Erika, who resides in Wisconsin. Together they operate the Country Mills Eagles Athletic Club and the Empire State Liberty Tour Track & Field Series, of which he is the Executive Producer.
With a mission to help other athletes understand that they can accomplish all that they choose to accomplish, he is a bearer of the light to help them find the way through the darkness. "So many athletes have goals and dreams as young people. They want to be like Michael Jordan, Peyton Manning, Lynn Swann, Carl Lewis, or Derek Jeter. Somewhere, someone or something happens that causes these young aspiring athletes to lose that vision. That is why I am forever committed to the promise of 'Keeping the Dream Alive'! That is what these young people need; someone to truly believe that they can achieve their dreams, but more importantly, can teach and train them to achieve it!"
Keeping the Dream Alive
Coach Mills