Lisa Mills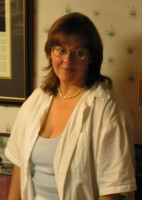 Lisa was born in Green Bay, WI (the cheese state). She grew up in a tiny (and I mean tiny) unincorporated town of 175 people. She is the grand daughter of one of the area's better known farmers. And so, it was not a surprise to find that she is most comfortable being barefoot in the garden. What is a surprise, though, is that she absolutely detests the "Frozen Tundra" weather of the north.
Her first love of music (both vocal and instrumental) took center stage during her high school years. She is a well decorated medalist in both the Saxophone, and Vocal categories. However, to keep a sense of balance in her life, she participated in various athletic programs such as Cheerleading, Track (hurdles), and Volleyball. Being a bit short, she was perfectly suited to be a setter for the high school team, where she played for four years.
With the hopes that their daughter might marry a pastor, she was encouraged to attend Asbury College in Kentucky, a private Division III school located right across the street from Asbury Theological Seminary. She quickly picked up in college where she left off in high school, as Lisa had no problems making the Intercollegiate Volleyball team and chose Music Education as her choice for a career. What she didn't count on, perhaps, was the set of eyes that one man had laid on her while performing a Sax solo during a Final Exams Jazz Concert late one Autumn.
Graduating from Asbury in 1985 with a BA degree in Music Education and a husband, she took on her first coaching responsibilities as the Head Coach of a high school Volleyball team in Florida. Not feeling comfortable away from the "Frozen Tundra", she and her husband moved to New York where she taught high school music in Amsterdam, NY. In the meantime, she also picked up a certificate in CPR, Lifesaving and WSI (water safety instructor). During the testing for her Lifesaving Certificate, she had to save her husband (who nearly drowned while being saved), and so she had to perform mouth –to – mouth. Quickly and immediately, he was revived thanks to her fantastic CPR and Lifesaving techniques. She passed with flying colors!
High school students seemed too tall of an order for her to have the impact she wanted to have with students, so she chose to teach elementary music instead. She enjoyed this quite a bit until all of a sudden, there were three; three of her own that is. Hence, she and her husband chose to Home-School their three children, and Lisa left teaching in the public sector. With a strong background and interest in the sciences, Lisa was the perfect choice to become the Plyometrics Coach for the Country Mills Eagles Athletic Club. Aside from being the "Track Momster" as her boys like to refer to her role, she is also the team co-ordinator. "What I like most about working with these young athletes, is the opportunity to get them "moving" in the right direction from the early years. Too many young people have developed bad posture, improper walking form, and the lack of interest to get outside and play physical games! They are all too comfortable in their virtual world. We get them 'outside' of that."