"COMBINED EVENTS"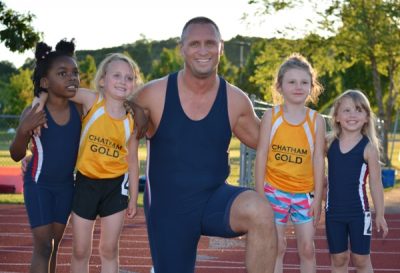 It ONLY happens twice each Liberty Tour Track & Field season, but the Combined Events are ALWAYS an event that draws a particular type of Athlete, and the Liberty Tour Track & Field Series is the ONLY place to find them EVERY Year!  Some refer to these Athletes as "Jacks of ALL Trades, Masters of None", as there are several events that make up each specific Combined Event.  For instance, the Youth Pentathlon consists of the 100m Hurdles, Long Jump, Shot Put, High Jump, and 800m Run.  In fact, there is a Combined Event for every age division, except one, and that is the Primary age division.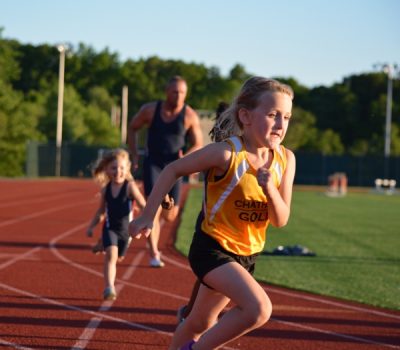 Well, that was the case, until 2016 when the Empire State Sports Council announced that it was going to introduce a Combined Event suited for the Primary age Athletes.  This "Triathlon" includes three (3) events, and they are NOT Swimming, Biking, and Running, but rather, the Shot Put, Long Jump, and the 200m Dash!  "We are EXCITED about the Primary age division," stated Anthony Mills, Executive Director of the Empire State Sports Council, and the Producer of the Liberty Tour Track & Field Series.  He continues, "ES Sports has an objective to teach Basic Motor Skill Movement for children at these young ages, something that has long since been forgotten by many elementary PE programs, which are Throwing, Jumping, and Running.  This new Triathlon addresses each of these Basic Motor Movement Skills, and allows the Athletes to experience them in a FUN, yet competitive environment."
      What was even more FUN at this Combined Event, is that the Master's Pentathlon overlapped a couple of the events in the Triathlon, so they were contested at the same time.  The Primary Triathlon Girls (Pictured Above, L to R:  Uriah Murdaugh – Country Mills Eagles, Emily Goodrich – Chatham Gold, Madalynn Madsen – Chatham Gold, Arianna Mills – Country Mills Eagles), shared the Long Jump Pit and the 200m Dash with the Executive Director, who is also the Athletic Director for the Country Mills Eagles Athletic Club.  Mr. Mills noted, "I am blessed to have the opportunity to share this evening with them.  We NEED more Master's Athletes to join in the FUN!"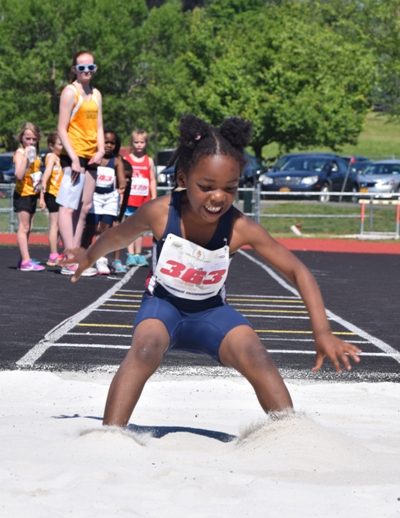 For all of the Results from the Adirondack Championships, click on "RESULTS" from the navigation bar, then Click on "Adirondack Championships".  For the updated Records for the Adirondack Championships or the Liberty Tour, Click on "RECORDS" from the navigation bar, and select the meet for which you would like to view the Records.
      Next up on the Liberty Tour Track & Field Series calendar is the Independence Invitational.  This meet takes place on Saturday, July 2nd at Clinton High School, located in Clinton, NY, and it will begin at 2:00 pm.
      Be sure to note that the Track & Field competition for the Liberty Games is scheduled for Friday & Saturday, July 15th & 16th, and is also weighted in the scoring, which means that 2 points is awarded for each point scored!