The ROAD to GREENSBORO Continues…
          The setting was New Haven, CT, home to Yale University, with more than 1,500 Athletes from CT to ME to NY to PA, and every state under that umbrella.  It was three (3) LOOOOOOOONG Days of 90 degree HEAT, a Schedule of Events that, FOREVER, ran hours late, with NO Water at any venue for Athletes.  In spite of the long odds for SUCCESS, the Country Mills Eagles had a BANNER Weekend!  By late Sunday, 13 Eagles' Athletes took another step on the Road to Greensboro, the Host for the National Track & Field Championships, where more than 10,000 of the top Track & Field Athletes across America will compete in more than 20 different Events.
  Getting things off to a quick start were the Combined Event Athletes (Triathlon – Jae-cion, Pentathlon – Arianna, Heptathlon – Marissa).  Jae-cion Boyd took the Gold in the Boy's (9) Triathlon, while Arianna Mills took Silver in the Girl's (11) Pentathlon, and Marissa Fiacco took Silver in the Girl's (15-16) Heptathlon.  Each of which set a PR.  Marissa set a new Country Mills Eagles Record in the Heptathlon, scoring 2,999 Points! As a Highlight to close in the Heptathlon, Marissa went wire to wire in the 8000m Run leading the entire field by more than 40m, posting a PR of 2:37.90, dropping 13 seconds of her previous PR and just .5 seconds from a Country Mills Eagles Record in the 800m Run!
          Jae-cion DID NOT stop there, as he took the Gold in the Long Jump, Gold in the 100m Dash, and 4th in the 200m Dash.  Arianna followed right along with a Gold in the High Jump, Gold in the Javelin, and a Silver in the Discus.  Marissa advanced by taking 5th in the 4x100m Relay and 6th in the Javelin.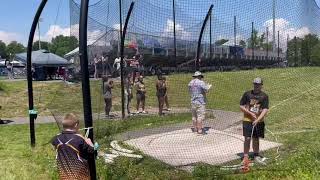 Arguably one of the Best Performances at the Region I Championships was a Gold Medal Discus Throw by Alana Burden with a PR at 37.61m! 😊  A DOMINATING Day in the Circle!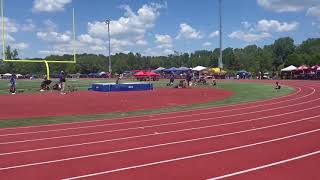 One of the most intriguing Performances of the weekend would be that of George Krause, who snuck up on everyone at the Boy's (14) High Jump when he took a Silver Medal in that Event, clearing 5'! 😊
          CONGRATULATIONS to ALL of the Eagles Athletes that Qualified for the National Track & Field Championships!  We are just one (1) month away from Greensboro, NC!  It is time to take our Game to the next level!