'HAMMER' ING BACK!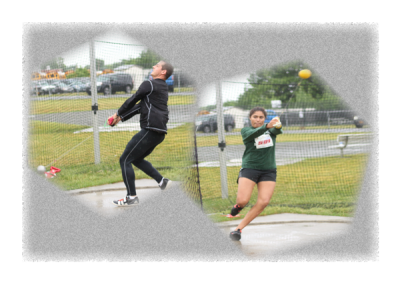 It was a day suited for growth, albeit Green Vegetation, but NOT necessarily Record Setting Performances at the Constitution Classic, which is the 2nd stop of the Empire State Liberty Tour Track & Field Series!  Within 24 hours, more than 2″ of rain fell, much of which was saved for the competitors, as an attempt, I suspect, to remain hydrated, although that was certainly NOT necessary.  Precipitation began just before the meet got underway, but did subside after the Hurdle events.  That allowed enough time for the National Anthem, and the start of the 100m Preliminary Heats, then it restarted in time for the 3000m Run.
     The sand in the Long Jump Pits was heavy and sticky, the level of water continued to rise in the Throwing Circles.  At times one may have considered Swimming across the Circles, rather than Gliding or Spinning.  But, Track & Field IS contested in the rain, and as Og Mandino writes in his best-selling book, "The Greatest Salesman in the World", in the Chapter entitled "PERSISTENCE" (Scroll III), "I WILL PERSIST UNTIL I SUCCEED!"  That is EXACTLY what Patrick Weinert (Open Men's Division) and Mya Muse (Senior Scholastic Girl's Division) did, as each set Hammer Records in their respective divisions for the Constitution Classic, and it didn't appear as though the dripping weather had any effect on them as they 'Hammered' away at the Record Books!
     "Rainy and wet are NOT the type of weather conditions that one envisions when setting a Record", noted Anthony Mills, Executive Producer of the Liberty Tour Track & Field Series.  He continues, "But, it makes the Record Setting Performance all the sweeter!"  Patrick's Record Winning Throw (Pictured Above) was 52.64m, and Mya's (Pictured Above) was 36.66m.   For additional photos from the Constitution Classic, just scroll down and click on the Thumbnail to enlarge the photo, and to read the caption.  For all of the Results from the Constitution Classic, click on "RESULTS" from the navigation bar, then Click on "Constitution Classic".  For the updated Records for the Constitution Classic or the Liberty Tour, Click on "RECORDS" from the navigation bar, and select the meet for which you would like to view the Records.
       Next up on the Liberty Tour Track & Field Series calendar is the President's Open on Saturday, June 11th at Oneonta High School, and it will begin at 10:00 am.