CURIOUS GEORGE!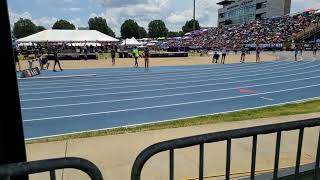 I can only imagine the thoughts going through your minds as you see this Title! 😊  For those who follow the Book Series, it is about a Monkey that finds himself, quite often, in trouble for getting involved in things he should NOT!  But, his Curiosity has been the subject of many Books, and it has transcended multiple generations!
            As an 8th Grader, trying to have an impact on a Varsity Track & Field Team is a TALL Order!  Quite often, such Athletes tend to "Fill Gaps" on the Relay Teams, or be the supporting cast for a Field Event.  For George Krause it began just like that.  He had reasonably good Speed & Stamina, so it appeared that 400m to 1500m was a good fit.
            Frustrated with running circles around the Track, George asked if he could try Long Jump.  Never willing to place an Athlete in a "Box", he worked for a couple of weeks at Long Jump, and was making improvements worthy of note.  But in late May, he approached, rather curiously, and asked, "Would it be okay if I tried High Jump?"  Given the fact that the Long Jump is usually the first of the Jumps to teach, as it is easier to pick up than High Jump, Triple Jump, or Pole Vault, and he had made improvements in the Long Jump, it was sensible to oblige.
            In just two (2) months this small, unknown 8th Grader, who was overshadowed by High School Juniors & Seniors, made a decision, with his Mom, to be a part of the Country Mills Eagles Track & Field Team, so that he could continue to develop his "Jumping Skills".  Like his Teammate Ryan Slingerland, George would be at Practice an hour early to work on ALL of his Jumping Drills, and stay late to work on his Jumping Form.  In fact, there were times when he needed to be sent home, as he was Jumping for two (2) hours straight! 😊
            In his first HJ Performance, at the President's Open on June 12th, he cleared 1.45m.  Two (2) weeks later, at the Region I Championships, he took a Silver Medal clearing 1.50m.  By the time the National Track & Field Championships were up in early August, George cleared 1.60m… as an 8th Grader, and finished 14th in the Nation!  It is a good thing George was Curious about High Jumping.  Congratulations, George, on an EXCITING Finish to the Track & Field Season!