JUMPIN' BEANS JUMP!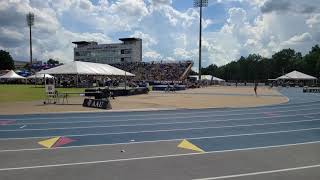 Since she was a couple of months old, her Legs would KICK up a Storm!  Blankets seldom stayed on her body, and you better not have been sitting near her, or you might find yourself bruised the following day.  By the time she was six (6) months, if you held her upright on your lap, she would Jump and Jump and Jump and Jump!  I remember, clear as yesterday, making the statement, "She IS a JUMPER!"
            With the OBVIOUS having been stated, soon after, she had a Jumping Seat that used to get hooked over the Door Opening, and she would JUMP for hours!  So much so, we were concerned that she might pull it off the trim! ☹
            When she began Track & Field as a three (3) year old, she was like most Children, she wanted to Run and Jump.  She thought the Sand Pit was custom made for her.  If she wasn't Jumping in the Sand, she would sit and play in it while others were Jumping! 😊
            When she was last in Greensboro, for the National Track & Field Championships, she wanted, DESPERATELY, to compete in the Triathlon (Shot Put, High Jump, 200m), but she was NOT old enough.  It DID NOT stop her from working on her Skills, though, as every moment in the Hotel Room was used to Practice High Jump on the King Size Bed.
            Well, for Arianna Mills, it paid off!  In her first "Official" Competition, she cleared 1.00m.  Just three (3) weeks later at the National Track & Field Championships, in Humble, TX, she cleared 1.15m.  Quite the improvement over such a short period of time.
            In 2022, at the National Championships in Greensboro, she entered the High Jump as one (1) of her contested Individual Events.  Her Starting Height was 1.15m! 😊  She cleared 1.20m, 1.25m, 1.30m!  Although she cleared 1.35m in the Pentathlon (her PR), being at the venue for seven (7) hours awaiting her start time, took its toll, as it did on most of the competitors.  Ranked 5th coming in to the National Meet, we were certain she would have to clear 1.35m to move up, and that was correct.
            Nonetheless, the 2nd Goal for each Meet is to get on the Medal Stand, and she accomplished that by taking 6th Place.  Arianna is the 1st Country Mills Eagles Athlete to earn a Medal at the National Track & Field Championships in the High Jump!  After all, "What do Jumpin' Beans do?…  They JUMP!"