SPREADING HER EAGLES WINGS!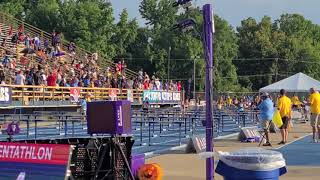 She has been an Eagle since the age of three (3)!  There are very few Events for Athletes of that age, so she contested the 100m, 200m, and Long Jump.  When she turned four (4) years old, she picked up Javelin (Turbo Javelin for Youth).  Once she reached the ripe old age of nine (9), she could contest the Triathlon (Shot Put, High Jump, 200m).  Unfortunately, Track & Field was CANCELLED that year due to Covid-19 Restrictions! ☹
          In 2021, Track & Field was back, and Arianna contested the Triathlon, adding Shot Put and High Jump to her Skill Sets.  However, once an Athlete reaches 11 years of age, they can contest the Pentathlon (80m Hurdles, High Jump, Shot Put, Long Jump, 800m).  More than EAGER to contest this Event, Arianna began in September of 2021 working, diligently, on Hurdles and High Jump, fully aware that they would be VITAL in her placement when the National Track & Field Championships rolled around in 2022.
          Coach That Myat Lwin had a perfectly set Schedule of Performance, which included 3-Stepping between each Hurdle, and that brought Arianna to the point where she was set to PEAK at the National Track & Field Championships.  She DID just that with a PR of 15.71!  In addition she broke the previous Country Mills Eagles Record of 15.93 set by Shannon Lenzi back in 2006!
          On a roll from her PR in the 80m Hurdles, she continued her PR ways by doing the same in the High Jump, clearing 1.35m.  Doing so made her the second best High Jumper among more than 40 Pentathletes, and moved her into 7th Place.  She entered the National Track & Field Championships ranked #10, and finished the competition in 9th Place.  Although she set a PR in her Score (1,955 points), she missed making the Medal Stand (8th Place) by just 49 points. ☹
          As noted previously, though, the #1 Goal is to PR at each Meet, and she did so in the 80m Hurdles, High Jump, and her Raw Score!  Congratulations to Arianna with her Record Setting Performance in the Pentathlon!