GUARDIANS of the RING!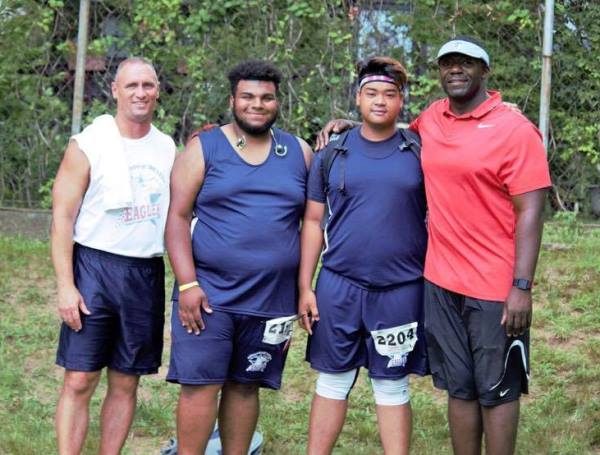 It has been stated over the years that Track & Field is the "Ultimate Cross Training Sport".  This is derived from the fact that Track & Field has a foundation of working and training the three (3) Basic Motor Skill Movements, which are Running, Jumping, and Throwing.  In fact, it is likely that if you were to sit and talk to any Professional Athlete, there is a high probability that Track & Field can be discovered in their athletic background at some point.  In others, it is a bit more prominent, though.
There are some that tend to take their skills in one sport and transfer them to another.  While the Country Mills Eagles Track & Field Team was competing at the AAU Region I Championships in New Jersey, a special Track & Field Official took the responsibility of the Discus Ring for the day.  For those that are die hard NY Football GIANTS Fans, the name Roman Oben (Pictured Above, far right) is synonymous with "Protection", as he was a 3rd Round pick of the Giants in the 1996 Draft (#66 overall).  Getting lost in all of the "Football Lore" that surrounds Roman is the fact that he was also a High School Track & Field Athlete at Fork Union Military Academy, where he set the Discus Record at 185' 10"  that stood for 21 years.  He also was a two (2) sport Athlete in college at the University of Louisville as a Football Player,and also as a Shot Putter, lettering in both, and selected to the All National Independent First Team for Track & Field in his Junior Year.
Taking the opportunity to get to know Roman are a couple of Country Mills Eagles Athletes, who also moonlight as Football Players for Rensselaer High School Thunder Rams; Ivan Jerome and Aung Soe (Pictured Above), flanked to the left by the Head Track & Field Coach for the Country Mills Eagles, Anthony Mills.  Both of these gentlemen play the Offensive Line, and have filled roles at Guard, Tackle, and even Center.  Moreover, each of the Men in this photo have protected Quarterbacks, as Coach Mills played four (4) years as a Guard for the Gloversville Huskies, and then two (2) years as a Guard in the Semi-Pro Empire Football League.  But in this case, they are Protecting the Discus Ring!  Ivan took Gold in the Senior Boy's Discus, while Aung took Silver in the same division, and Coach Mills finished in 1st Place in the Master's (55 -59) Division.  Each has advanced to the National Junior Olympics in Ypsilanti, MI in early August.
            For more about Roman Oben please visit his website at http://romanoben.com/.