Qualifying for the Christmas Rush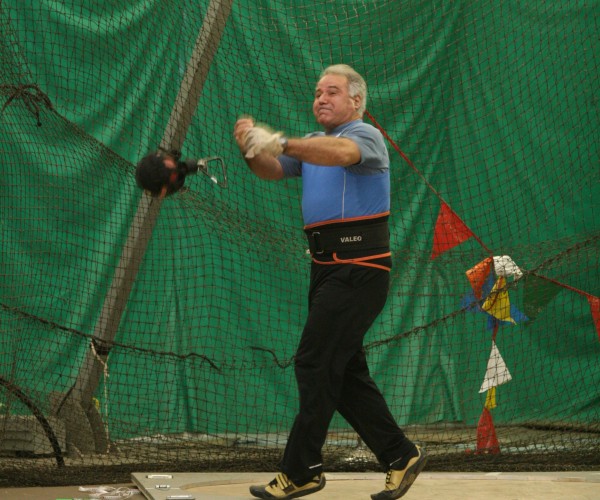 At a time of the year when everyone's thoughts are focused on the celebration of the Birth of Christ, some get distracted by the insignificance of so many holiday traditions, such as the immediate need to purchase and drink EggNog, decorate their lawns with oversized plastic Snowmen, send along Greeting Cards to those they haven't spoken to in months (or even years), and of course the urge to Rush from store to store to purchase the perfect item for their loved ones and nestle it under an artificial pine tree.
     That may be a bit on the cynical side, but there is no doubt that much of this happens every year in the month of December.  So, to provide some sort of an exercise benefit to all of this frantic running around at a time when the last thing on anyone's list is getting back into shape (that comes at the start of the New Year), Liberty Sports Group decided to re-introduce an Indoor Track & Field event that has been lost for more than 15 years as the kick-off to the Empire State Winter Express.  So, if you need to get in shape to get to the store first to buy that last Turbo Man Doll, then you should have prepared for the return of the Christmas Rush.
     We would like to show you some of the athletes looking to qualify for specific jobs this Christmas season, but perhaps need just a bit of improvement before qualifying to make it their full-time line of work.  Mike Fortunato (Pictured Above) has the Black Belt, and is a Jolly Old Man (sorry…Mature Man), but where is the Red Suit?  Perhaps with all that spinning in circles, he forgot where he was and what he was supposed to wear? 
     Because this was the 1st year of the new Christmas Rush, everyone that took 1st Place set a new Christmas Rush Record, so in the Spirit of the Season, we thought it would be more fun to show you some of the special moments of "The Return of the Christmas Rush".  If you didn't compete this year, be sure to join us in 2011, especially for the 55m Reindeer Run.  To view these performances just scroll down below, and then click on the Thumbnail to see the entire photographic performance.  To view the current records for the Adirondack Championships, click on "Records" from the navigation bar for the Winter Express, and then click on Christmas Rush.  For all of the Results from the 2010 Christmas Rush, just click "Results" from the navigation bar for the Winter Express.