Winter Express…A Winter Wonderland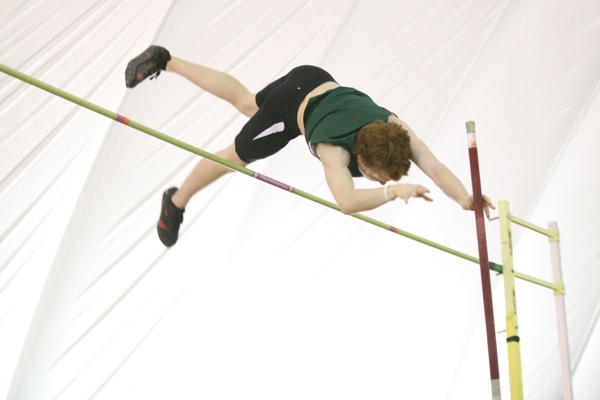 The 2011 January Thaw was supposed to produce warm temperatures in order for each of us to get the sense that Spring might be just around the corner.  Freezing Cold temperatures didn't do much to warm anyone's heart to such a sentiment.  For the Winter Express Championships, we had so much snow that it was piled up as high as the ceiling!  If you don't believe me, just check out the photo above as Edward Simon (Monsfield Athletic Club) tries to vault over the snow pile, but even with an impressive vault of 4.42m, taking 1st Place by more than 1 meter from the next closest competitor, he still can't seem to clear the mountainous pile of snow.
     Okay…this is one fish story you are not going to buy…I tried, though!  Actually, the weather for the Winter Express Championships was relatively mild, almost Spring like, and the white you see in the background is nothing more than the ceiling of the infamous "Bubble" at UAlbany.  But you have to admit, it started out as a great lead in for this article.
     Because this was the Inaugural year for the Winter Express, it would be quite time consuming to show you great photos of those athletes that set records, mostly because every performance that finished in 1st Place was a record for each age division!  Nonetheless, we did try to capture some of the exciting performances, along with some of the fun, at the Winter Express Championships.  If you scroll down, then click on each photo, a larger image with a caption will give the details for that photo.  Be sure to join us for the 7th year of the Empire State Liberty Tour Track & Field Series, which will begin on Saturday, May 28th at Union College.
     To view the Results from the Winter Express Championships, just click on "Results" from the Menu Bar above.