East Region Championships: This was NO Holiday!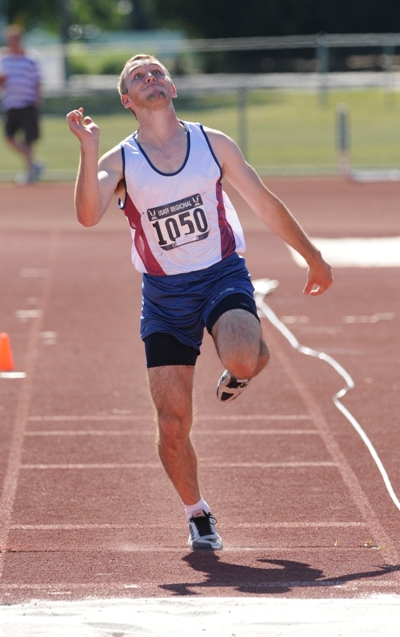 What is the value of a Naysayer?  I can remember quite clearly a handful of people, almost a decade ago, that adamantly expressed their discontent over the very thought of contesting a Track & Field competition on a Holidayweekend.  In fact, even some in positions of "legendary importance" noted the gross inconvenience of hosting a meet at such sacred times as Memorial Day or July 4th  weekends, Thanksgiving, or Christmas.  However, I once had a mentor that made it very clear to me, "If you want to be wealthy, you cannot seek the advice of a poor man."  There is certainly no financial wealth associated with the Liberty Tour, as most of the events barely break even, but the advice was to note that it is useless to ask someone with no experience in Event Production, how to Produce an Event.  My father did accuse me at times of not listening.
The East Region Championships over the past few years have drawn a paltry 110 – 135 athletes.  Not listening to the Naysayers projecting that the number of registrations would suffer in 2010 if the date of the meet was over the July 4th Holiday, it was decided that such a weekend would likely be more appropriate than any other weekend.  Let the Naysayers beware!  This East Region Championships drew nearly 275 competitors from around the Northeast to contest their skills against some of the top athletes in the region.  It is safe to say that many of the athletes came with a serious work ethic that made this Championship event NO Holiday for them.  One only needs to have watched the two (2) day performance of Decathlete, Raffael Craig (Pictured Above), to fully grasp this thought, as he spent his Holiday Weekend amassing 6.643 points to take the top spot in the Open Men's Decathlon, which saw a record number of competitors this year with a field of 13.
     There were so many wonderful performances at the 2010 East Region Open & Master's Championships, and I wish we could highlight every one of them.  Because that is not possible, you will have to spend your next celebration of July 4th with us.  We look forward to sharing such an occasion with each of you.
     To get a better perspective on some of the exciting and outstanding performances at the 2010 East Region Championships, just scroll down below, and then click on the Thumbnail to see the entire photographic performance.  To view the current records for the East Region Championships, click on "Records" from the navigation bar for the Liberty Tour, and then click on "East Region Championships".  For all of the Results from the 2010 East Region Championships, just click "Results" from the navigation bar for the Liberty Tour.