Liberty Tour Champs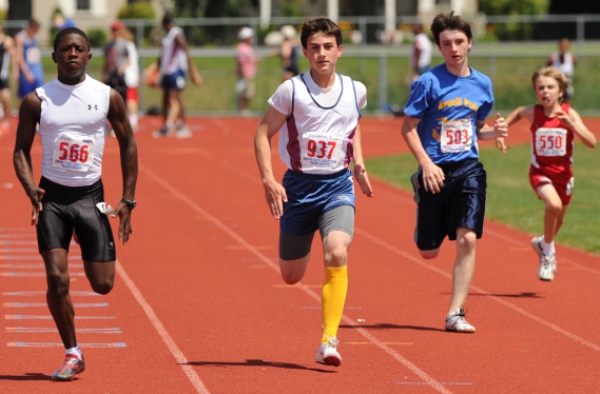 If I recall correctly, the beginning of each Superman episode began with, "Faster than a Speeding Bullet, More Powerful than a Locomotive, Able to Leap Tall Buildings in a single bound."  After the results of Liberty Tour Track & Field Championships, I find myself a bit confused.  The Glencadia Bullets from the Adirondack Association were able to rack up enough points to win this meet, but did not do so by dominating the Sprints (Speed), or the Throws (Power), and they were not very successfully in leaping over the High Jump Bar, let alone Tall Buildings.  They did, however, make a true TEAM effort of the day, led by one of their oldest members,Jonathan Quinby (Pictured Above), as he scores 10 points for the Glencadia Bullets with this throw of the Javelin (32.45m), which was 1st Place in the Intermediate Boys division.
     To be sure to take full advantage of the opportunity, Head Coach of the Bullets, Chris Volney, was eager to express his excitement over his team's accomplishments, as he spread around the accolades to each of the team members, their Parents, and even to some of the opposing competitors.  "We are so excited about our accomplishment here today", exclaimed Volney.  He adds, "Our team has had this meet in our sights, since we first learned that Ichabod Crane would be the host for the State Track & Field Championships."
     The competition was stiff most of the day, but it was difficult to compete with Bullets in the Relays, as they dominated that part of the meet winning five (5) of the Relay events.  In the end it was Glencadia at the top with a score of 208 points, followed by the Metro Lightning with 165 points.  Third place belonged to the Delmar Whippets with 121 points, who just edged out the Country Mills Eagles who rounded out the top four (4) spots with 111 points.