Schenectady Armory to host Dodgeball Tournament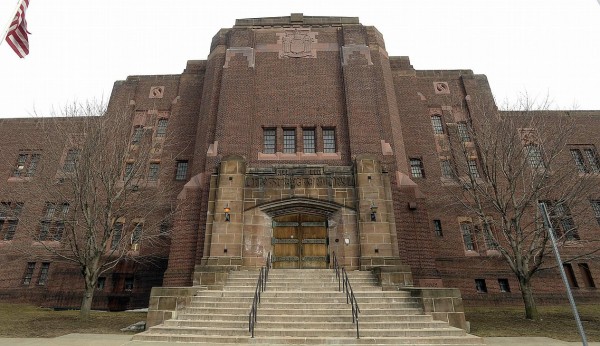 SCHENECTADY — Dodgeball is coming to the Schenectady Armory this spring as part of a statewide Corporate Challenge.
The Empire State Sports Council (ES Sports), a Nonprofit 501(c)(3) Organization based in Clifton Park, is kicking off the first year of its newest Annual Event, the Empire State Corporate Challenge, with a Dodgeball Tournament at the Armory in April.
"Most corporate challenges across the nation are similar to the Workforce Challenge," said Anthony Mills, Executive Director of ES Sports. "There are only about four (4) true corporate challenges, which are similar to the one we're launching in 2016."
The Empire State Corporate Challenge will include a series of sports events held in the Capital Region from April through July.  The Dodgeball Tournament, hosted by the Armory on April 15th and 16th, will kickoff the series of contested events.
The goal of the Corporate Challenge is to get Businesses, Communities, and Families involved in an effort to combat obesity, while at the same time improving the relationships in each, Mills said.  He noted, "That is why the Empire State Corporate Challenge is open to Employees, but also their Spouses, Children, and Grandchildren!  Everyone's points count for the Business they represent."
"The goal of the Sports Council opened up the door for this," he said. "Our mission statement is Health, Exercise, and Education."
Details of the various events over the 10 to 12 week Corporate Challenge will be announced during a Press Conference on Wednesday, February 10th, at 3:00 p.m. at the Armory, located at 125 Washington Ave.
There will be about seven (7) different events including Track & Field, Basketball, Road Racing, Softball, and a Mud Run.  The last event, which will be the Great Empire Walk, will take place on July 8th at Viaport Rotterdam, formerly the Rotterdam Square Mall.
"Different events will happen on different weekends," Mills said. "That way people can participate in several of the contested events, if they want to.  On Thursday, July 14th, we will have Closing Ceremonies, which crosses over with the Opening Festival of the Sports Council's Liberty Games, now the new state games."
The Empire State Sports Council hosts about half a dozen sports events/programs each year, including the Liberty Tour Track & Field Series, the Stars & Stripes 5k Twilight Run, Adirondack Adventure XC Series, Rising Stars Clinics, and the Country Mills Eagles Athletic Club.
Assemblyman Angelo Santabarbara, D-Rotterdam, is coordinating the Dodgeball Tournament at the Armory.  He said he anticipates the event to bring a lot of visitors to the city.
"What's nice about this event is we haven't had an event like it in Schenectady," he said. "It's about community participation and something anyone can play. I think we will have incredible community participation from businesses, schools, clubs, and other organizations."
Details of the Dodgeball Tournament will be outlined during the Press Conference on Wednesday, Santabarbara said.
As part of the Press Conference, area mascots, including The Daily Gazette's Newsie, will go head-to-head in a special Dodgeball Tournament.
"We're trying to figure out how it will work and also going through the rules," Santabarbara said. "It's a pretty interesting set of rules, like matching uniforms. There will be different age levels and anyone could play."
The event is open to all Corporate Employees and their Families.  Protective eyewear or other padding may be worn and athletic footwear is required.
Teams should register prior to April 1st to participate in the event at:
Corporate Challenge Dodgeball Online Registration.
Registration questions can be sent to Lisa at Events@ESSportsCouncil.org.
There is a $60 Registration Fee for Youth and Scholastic Teams, and a $150 Registration Fee for Open and Masters Teams.
There is a $3 Event Fee for adult spectators, $1 for students and FREE for children under 10 years old.
The Armory hosted Schenectady's first Mixed Martial Arts event in September, which drew more than 600 people.  Santabarbara said he is hoping the Dodgeball Tournament will be as successful.
"It will be a local and regional draw," he said.  "That means a lot of people, just like the MMA event brought a lot of people here.  You will see a very busy downtown and businesses will benefit."
Interested in playing in the Dodgeball Tournament? The 2004 movie "Dodgeball: A True Underdog Story" said it best, "If you can dodge a wrench, you can dodge a ball."
Reach Gazette reporter Haley Viccaro at (518) 395-3115, hviccaro@dailygazette.net or @HRViccaro on Twitter.