BOLEN CAPTURES 2nd NATIONAL TITLE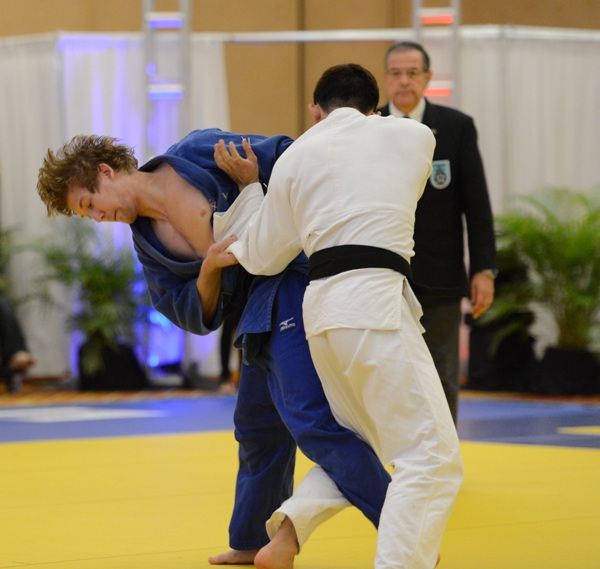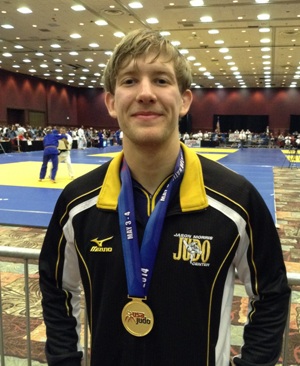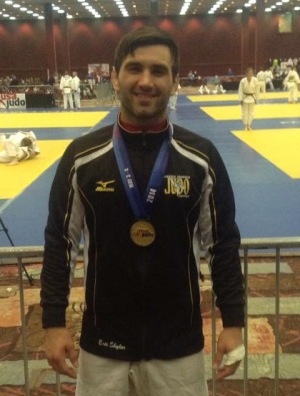 Reno, NV – Brad Bolen (25), from the Jason Morris Judo Center (JMJC) in Glenville, NY captured his second US Sr. National title winning the 66kg division on day two (2) at the Grand Sierra Resort & Casino, Sunday, May 4, 2014. This was Bolen's 5th overall Medal at the Nationals having been in the finals the last four (4) years (Gold 2012, Silver 2013 & 2011) along with picking up a Bronze in 2009.
Bolen (shown at right) won the his final match against up and comer Spencer Augustine (22) getting his signature "Bolen Arrow" choke in the first minute to give the JMJC it's 27th National Champion.
In addition, Schenectady County Community College (SCCC) student, Maria Dhami (18), continued to improve as she made it all the way to the 52kg final match, losing only to #1 ranked, Angelica Delgado by penalties, 3-0.
Ashley Hejlik (27) also continued to improve as she picked up her first US Sr. National Medal winning a Bronze at 48kg.  Hejlik now moves all the way to #5 in the US.  Hejlik also won a Gold in the 48kg Brown Belt division with JMJC teammate, Haley Meara (18), taking the Bronze Medal.
Burnt Hills High School Senior, Eric Skylar (17), posted a 5-0 record on the day to capture a Gold in the 81kg Brown Belt category making that his first Sr. National Medal.  Dave Harris (28) lost to eventual Silver Medalist, Augustine, who he had beaten just a month earlier, and placed 7th in 66kg.
The JMJC has now won a remarkable 93 total medals at the US Sr. Nationals in its 13 year history.  Yesterday, Tony Sangimino (23) (shown right) who won a Silver Medal last year, took it one step further going 4-0 on the day, and in dominating fashion, giving the JMJC its 26th US National Championship.  This was Tony's 3rd overall National Medal.
RPI Graduate, Leah Fisher (29), had her career best performance at the Nationals taking a Silver Medal in 70kg, while Burnt Hills High School Junior, Nick Irabli (17), turned in his best performance at the Nationals, as well, taking 5th place at +100kg, and thus, improving upon his 9th place finish last year.
Note: Story submitted by Jason Morris, Silver Medalist in Judo from the 92 Barcelona Olympic Games. Jason is also the Judo Sports Chair for the Liberty Games.