GOLD RUSH @ St. John's University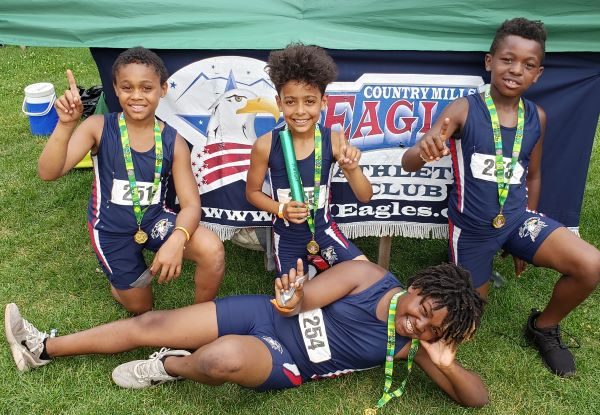 There was a time when folks from the Northeast headed West due to rumors of Gold being discovered.  For the Country Mills Eagles Track & Field Team, they just headed South to NYC where Gold was abundant all weekend at the AAU Region I Track & Field Championships.  With temperatures in the 90's, and more than 1,400 Athletes, it wasn't easy, but the Eagles dug deep and found that their Hard Work paid off.
"It is probably the most dominating our Team has ever been at such a Qualifying Meet!" exclaimed Head Track & Field Coach, Anthony Mills.  He continues, "An example of that is the fact that our Athletes took four (4) Gold Medals out of five (5) Javelin Events in which we had Athletes!"  Moreover, he noted that one of the biggest Goals for this Track & Field Championship was for the Bantam Boy's 4 x 100m Relay Team to break under a minute.  They came dangerously close with a time of 1:00.38, but they did manage to beat the rest of the field by more than 2 seconds!
April Fredericks, who has two (2) of her Boys on the Relay Team, noted, "We are so impressed with the progress that these Boys have made in just a couple short months."  She adds, "Their first time as a Relay Team was over 1:03.00, so it is GREAT to see them come so close to breaking under 1 minute.  We are certain that they will do that at the Liberty Games!"
The Country Mills Eagles collected a total of 17 Medals, and they are as follows:
Gold – 9        Silver – 6      Bronze – 2
Gold Medals:  Jah-sir Boyd (Triathlon & Turbo Javelin); Sinai Fredericks (Shot Put); AJ Fredericks (Triathlon); Alana Burden (Javelin); Arianna Mills (Long Jump & Javelin); Felina DeThomasis (Javelin); Bantam Boys 4 x 100m Relay Team
Silver Medals:  Sinai Fredericks (Triathlon & Shot Put); Anthony Bethel Boykin (Shot Put); Aiden Sanders (Shot Put & Discus); Alana Burden (Discus)
Bronze Medals:  Ava Weiss (80m HH); TJ King (Triathlon)