TAKING HIS SHOT!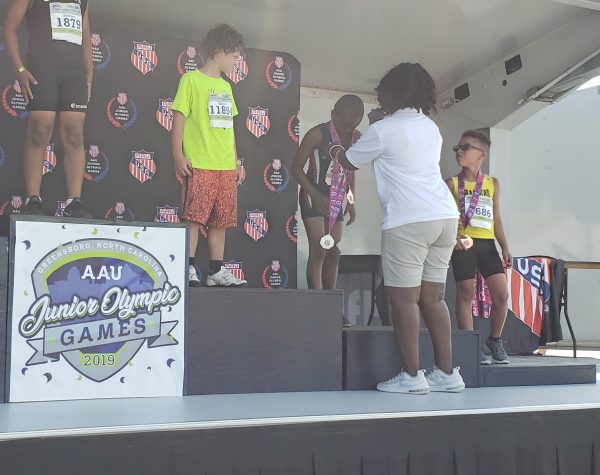 Some folks spend an entire lifetime hoping to get their "Shot" in Life. All too often they are waiting for someone else to do something for them, rather to seek out opportunity, and take advantage of it!
Just one (1) month ago, while at the Region 1 Track & Field Championships @ St. John's University in NYC, one young Man was frustrated that many of his Teammates had earned Medals (Gold, Silver, and Bronze) during the four (4) day competition, but he had not earned one (1) himself.
On the final day of the competition, he took the Gold Medal in Shot Put for his Age Division (8 & under).
Shot Put was the ONLY event that Anthony Bethel-Boykin qualified for at the National Junior Olympic Track & Field Championships! He came in seeded 17th, but after an impressive first Put of the Shot at 7.72m, he quickly found himself in 2nd Place!
In the Finals he was barely passed by three (3) other Athletes (all between 7.89m and 7.75m), and finished 5th overall, and earning the 1st Throws Medal for Country Mills Eagles! 
"This is a Young Man with endless potential!", exclaimed Head Coach Anthony Mills. He adds, "We are SO PROUD of him and the relentless effort he gave at practice over the last month, which "put" him in position to succeed!"
In 2020 Anthony plans to return to the Country Mills Eagles, and to the National Track & Field Championships, but with Gold in his sight!