DODGEBALL… FEELING RIGHT at HOME!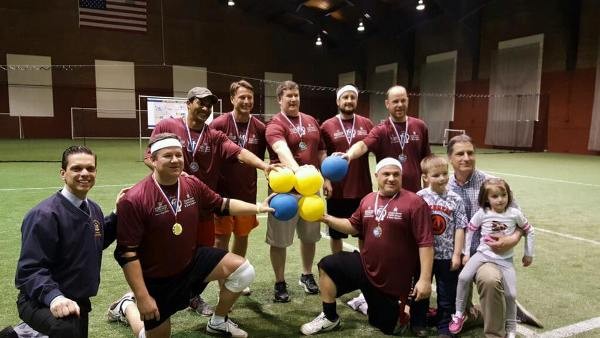 It was a day made for SUCCESS!  It was Warm, Sunny, just a picture perfect day to be… Inside Playing Dodgeball!  It was the Kickoff event for the Empire State Corporate Challenge, which is in its inaugural year in 2016.  In a day when Team Sports are considered Football, Basketball, and Baseball, it is DODGEBALL that set the stage for the launch of this New and Exciting event.  In fact there is even a National Dodgeball Organization today, thanks to the growing popularity of this somewhat combative oriented sport.
            "We felt that Dodgeball was the best event to have as the lead-off event for the Empire State Corporate Challenge", states Anthony Mills, Executive Director for the Empire State Sports Council, which produces the Corporate Challenge.  He adds, "It embodies all three (3) Basic Motor Movement Skills (Running, Jumping, Throwing), but is, by far, one of the most Exciting and FUN events that any of us has ever played in our school days."  There is NO denying that, as each of the players we had a chance to watch, and speak with, showed NO signs of anything less, especially the BIG kids, or as we say when Athletes get into their advanced years, "Experienced Athletes"!
            There were three (3) Divisions contested, Open Men's, Co-Ed, and Youth.  There was strong competition from each of the attending Teams, as no one Team dominated the Round Robin portion of the Dodgeball Tournament.  After a grueling day of Throwing, Dodging, and Catching, there emerged three (3) Gold Medal Winners, and in the Men's Division it was Berkshire Hathaway Home Services, led by the President, Jason (Jay) Christiana.  They were so good, that WNYT featured their Team on the Newscast at 6:00 pm Saturday evening.  "We Love what the Empire State Sports Council is doing this year with the Empire State Corporate Challenge, and all of its different events that will run from mid April to mid July", said Jay.  He continues, "It is a GREAT Team Building opportunity, and we WILL DEFINTELY be participating in more of these events."
            In the Co-Ed Division Country Mills Eagles took 1st Place with their entire Team made up of Family (two (2) Brothers with their respective Sons, and a Mother/Daughter duo).  To add to their success, their younger Children, and even Grandchildren, took 1st Place in the Youth Girl's Division.  One of the glaring differences about the Empire State Corporate Challenge, from any other "corporate challenge" is that it IS about Family!  "Corporations are NOT just about an Employee, but the Family that they are attached to at home", noted Anthony Mills.  "Moreover, we hope that businesses will quickly understand that their success in making lasting relationships with their Employees MUST include their Family!"
            The next event on the Empire State Corporate Challenge calendar will be the Mud Run on Saturday, May 7th.  For more information on that event, or any of the Empire State Corporate Challenge events, contact the Event Coordinator (Lisa) at their office in Clifton Park at (518) 406-5478, or by e-mail at Events@ESSportsCouncil.org.