48 HOURS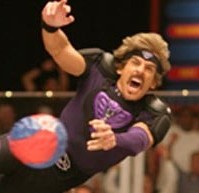 In the words of Dodgeball Sports Chair, Assemblyman Santabarbara, "Don't Dodge This Opportunity"!  For those that are still interested in Registering for the Empire State Corporate Challenge Dodgeball Tournament, which is the first of seven (7) Corporate Challenge events, you still have 48 hours to do so before there is a Late Fee incurred for Registration.  So, NOW is the TIME, or you risk missing out on ALL of the Exciting Competition and FUN!
     For those that have Registered, and those considering such, we do have a Youth Team that is Registered (Ages 6 – 14), and they are hoping to have a chance to play against a couple of other Teams.  Remember that the Empire State Corporate Challenge is open to Employees, their Spouses, and their Children and/or Grandchildren!  Everyone can earn points for the Company!  Better yet, the Registration Fee for a Youth Team is ONLY $60!
       The second event for the Empire State Corporate Challenge is the Mud Run!  There are already several Teams Registered for that event, but there is plenty of room for more!  This is the ONLY event with an Age Limit, so be sure to check out the website, ES Sports Corporate Challenge,  for all of the details.