NEW MAN in the OLYMPIC CHAIR!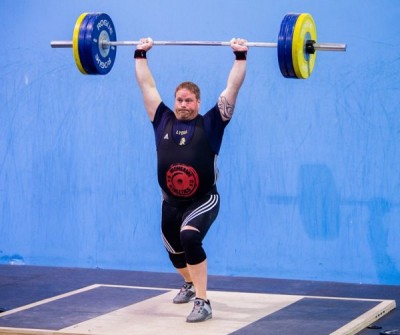 It is well known that EVERY Man has his "Favorite Chair", especially for the sake of watching his favorite sporting events.  It is one of the most difficult tasks to separate a Man from such a favorite chair.  In fact, the best way to make the loss of the old chair a distant memory is to search for a New Chair, and place it in the house!
     To some degree, the Empire State Sports Council did that when it realized that there was a need for a New Olympic Sports Chair for the 2016 Liberty Games.  They didn't need to go very far to find such a Man, either, because he is a two (2) Gold Medalist at the Liberty Games in his weight class for Olympic Lifting.
     Jamie T. Verner began weight training while serving in the United States Navy.  He is a USA Weightlifting Certified Masters Level I, and Crossfit Level I, Coach, and is currently coaching both Weightlifters and Crossfit Members at Crossfit Beyond in the city of Albany. His passion for fitness has taken many forms both competitive and non-competitive over the years.  Although Jamie began cycling in the early 90's and was an active member of the Capitol Region Bike Racing Club for many years and participated in numerous local and regional bike races, he never lost his passion for the barbell.
     "There is NO Question about Jamie's commitment to the Sport of Olympic Weight Lifting!", confirmed Anthony Mills, Executive Director for the Empire State Sports Council, which produces the Liberty Games.  He continues, "In order to be effective in our goals to make the Liberty Games the quality event it NEEDS to be, and to be able to draw more Athletes from around the Empire State, Jamie was the right choice to accomplish both."
       By discovering Crossfit in 2010, a relatively new training system at the time that incorporates body weight movements, gymnastics and Olympic Weight Lifting, Jamie found his passion for the Iron Sports renewed. Shortly after beginning Crossfit, Jamie switched to Weight Lifting Training and Competing, exclusively.  Currently, he is boasting Gold Medal wins at the Liberty Games in 2014 & 2015, along with a Silver Medal at the American Weightlifting Federation Grand Open in Las Vegas, NV, a Silver Medal at the American Weightlifting Federation Nationals in Boston, MA, and yet another Silver Medal at the Elmira Fall Open in Elmira, NY.  For this year, Jamie has his sights set ever higher with plans to compete at the Masters Open, American Masters, and the Arnold Classic in 2016.