A COMBINATION of TALENTS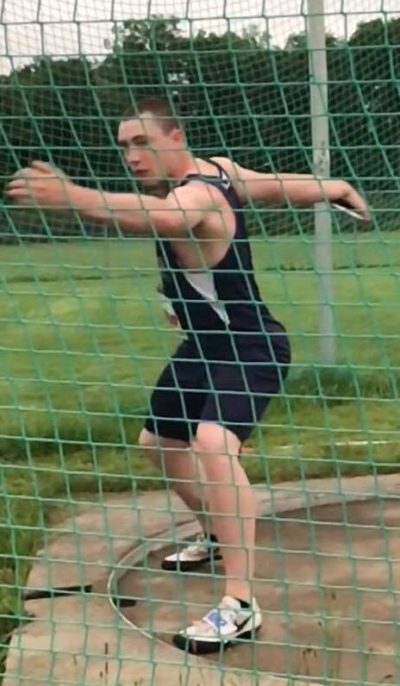 In a time when Parents and Coaches tend to want to place Athletes in a box, especially at a young age, and encourage them to invest all of their time into just one activity, being one dimensional, it is exciting to see some Athletes break away from such narrow thinking, and train to become talented in several.  The sport of Track & Field makes it easier to accomplish such a goal, and Jamie Cocca (Pictured Above), from Averill Park Road Runners, takes it to a new height by setting the Adirondack Championship Record, and the Liberty Tour Record in the Weight Pentathlon, which consists of all five throwing events (Shot, Discus, Javelin, Hammer, and Weight).  The previous Liberty Tour Track & Field Record was his own from 2016.  In 2017 he broke his previous Record by 71 points, for a total score of 3,384 points!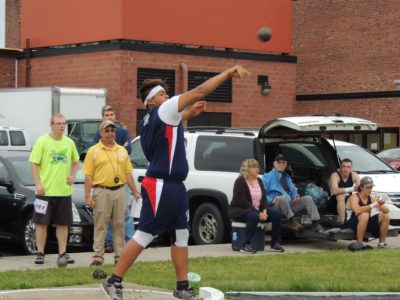 The irony of this year, though, is that Jamie's older brother, David Cocca, held the previous Weight Pentathlon Record for the Senior Boys (17 -18) with a score of 1,509 points.  That Record was eclipsed by Aung Soe (Country Mills Eagles) by posting a total of 1,593 points.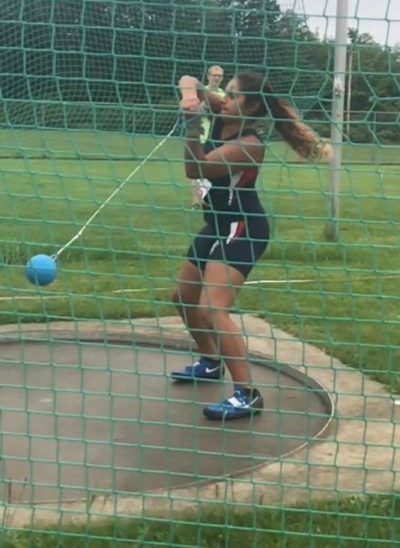 Not to be outdone by the their male counterparts, the Women had their say in Record Breaking, too!  In her first appearance at a Weight Pentathlon event, Nadia Khan (Country Mills Eagles) set the an Adirondack Championship Record, and a Liberty Record, with a score of 1,822 points, passing Teammate Unique Bryant's previous Record in that event.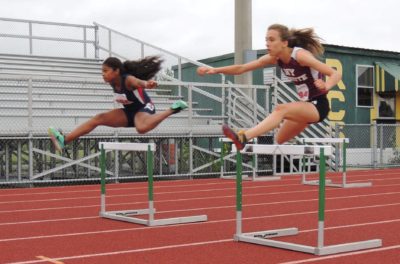 Claire Howard (In A NY Minute) set a new Adirondack Championship Record in the Youth Girl's Pentathlon.  Her previous Record from 2016 (1,925 points) was briefly broken by Alana Burden (Country Mills Eagles) who scored 1,954 points this year.  Yet, Claire surged ahead in the final event of the Pentathlon, 800m Run, to secure her Record at 2,300 points.
Claire's younger brother, Neil Howard III is also making a name for himself, as he set a new Liberty Tour Record in the Midget Boy's Pentathlon with a score of 2,014 points, replacing former Record Holder Max Comer (Country Mills Eagles), who has held that Record since 2009.  "It is one of my favorite Track & Field Events", stated Head Track & Field Coach Anthony Mills from the Country Mills Eagles, who also set a Master's Men's (55 – 59) Weight Pentathlon Record with 1,611 points.  He continues, "We believe that the Combined Events at ALL age divisions is important for most Track & Field Athletes, both from a training point of view, and a Biomechanical perspective, as it helps Athletes to develop so many skills that are the foundation of ALL Sports!"
For those that missed the opportunity to attend this Combined Events meet, the same will be contested at the Liberty Games Track & Field competition in mid July.  For more information on that event, and to Register, visit http://essportscouncil.org/liberty-games/post/track-field/.  For all of the Adirondack District Championship Results, just click http://essportscouncil.org/liberty-tour/post/adirondack-champs-61717/.
 Photos Courtesy of Mandi Khan-Palmer