BOLTS STRIKE @ the PRESIDENT'S OPEN!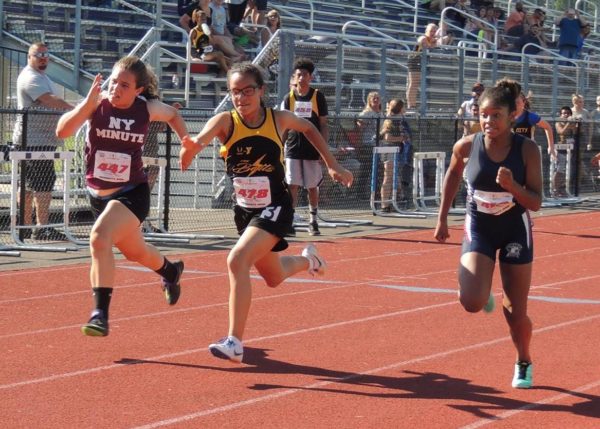 It was the 13th Annual President's Open, but there was nothing unlucky about the Track & Field performance by the Norwich Bolts!  On the heels of a dripping Constitution Classic, the President's Open was overwhelmed with Sunshine and Warm Temperatures that made for an ideal day for competition.  Eager to prove their prowess as first time hosts for a Liberty Tour Track & Field Series event, the Bolts had nearly 70 Athletes (impressive in only their 2nd year of organization) covering ALL Age Divisions, and just about every Track & Field event.
One "Bolt" struck in the Youth Girl's 100m Dash when Milla Gonzales (Pictured Above for the Norwich Bolts) just barely edged out Alana Burden (Country Mills Eagles) by 1/100th of a second to secure 1st Place with a time of 13.67 seconds.  With a dominating Team Performance, The Bolts finished the day with an astounding 431 Team Points, more than 150 Points above 2nd Place Chatham Gold (264 points), and 3rd Place Country Mills Eagles (247 points), and the 2016 Liberty Tour Track & Field Series Top Scoring Team!  "We are so HAPPY to be hosting the President's Open this year." Exclaimed Shannon Gawronski, Head Track & Field Coach for the Norwich Bolts.  She adds, "This is GREAT for our Track & Field Team, and the community!  Our performance today reflects our excitement!"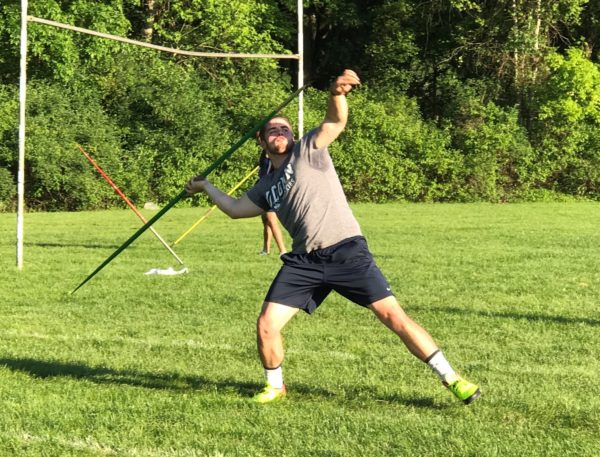 For those that were fortunate enough to watch the Javelin competition, it could be argued that Zeus himself was there to compete, as Michael Jeffers (Pictured Below), from the University of Connecticut (UCONN) set a new President's Open Record in the Senior Boys Javelin with a heave of 52.83m.  "The Liberty Tour Track & Field Series tends to draw top ranked Athletes in ALL Age Divisions," noted Executive Director of the Empire State Sports Council, Anthony Mills.  He continues, "It is always a pleasure to watch elite Athletes perform, and set new Records, especially at a Liberty Tour event!"
For more photos of the President's Open,  just scroll down.  You can view ALL of the President's Open Records by visiting www.Liberty-Tour.com, click on "Records" from the navigation bar, then click on "President's Open".  You can also view the Liberty Tour Records.  For the Results from the 2017 President's Open just click the following link  http://essportscouncil.org/liberty-tour/post/presidents-open-61117/.  
The next leg of the Liberty Tour is the Adirondack District Championships on Friday & Saturday June 16th (5:00 pm) & 17th (11:00 am), and it will be hosted at Ravena High School.  Points fort this event are 50% higher, which means your Team earns 1.5 points for every Team Point earned!  This is a GREAT opportunity to make up some ground if your Team is looking to earn a share of the $1,500 in Team Gift Certificates provided by Liberty Sports Gear!  Be sure to Register, at http://essportscouncil.org/liberty-tour/post/adirondack-championships-2/.