SWEPT IN A NY MINUTE!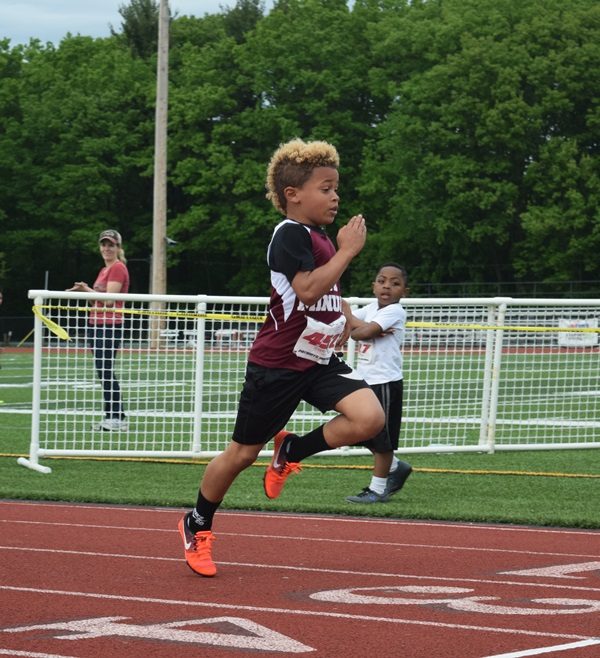 It was the 13th Annual Liberty Tour Track & Field Series being kicked off by the 13th Patriot's Invitational!  Some might suggest, if they were superstitious,  that the number 13 is an "unlucky" number.  I have always maintained that when it comes to Athletic Performance, luck is NEVER part of the equation.  An Athlete is either prepared, or NOT prepared.  They are likely going to reap the results of the effort they have put into practice up to the point of competition.
Bursting onto the Liberty Tour Track & Field scene was Taydence Morrison!  In less than a "NY Minute", he was in the Record Books with his 100m Dash performance of 14.80 seconds (Pictured Above), shattering the previous record by more than a second!  A successful first performance for sure, but he didn't stop there!  He proceeded to set the Patriot's Invitational Record in the 400m Dash with a time of 1:19.08, surpassing the old mark by nearly five (5) seconds.  Obviously on a roll, he completed a clean sweep of the Sprint Events by setting a new Patriot's Invitational Record in the 200m Dash, as well with a blistering time of 32.64 seconds, crushing the previous record by almost four (4) seconds!
"I am not sure how much help this young Athlete is around the house, but he sure cleaned house here today!", quipped Anthony Mills, Executive Director for the Empire State Sports Council, which produces the Liberty Tour Track & Field Series.  He adds, "As a Sprint Coach, myself, I found it exciting to watch him do his thing!  It will be FUN to watch his maturity over the coming years!"
Taydence is part of In A NY Minute, a Track & Field Club from Taconic Hills, coached by Neil Howard Jr.  Entering their 4th year of organization, they are beginning to make their presence known.  There were other Patriot's Invitational Records set by their Team, including his son, Neil Howard III, and his daughter, Claire Howard.
There were nearly 30 New Records set from the 2017 Patriot's Invitational, and you can view ALL of the Liberty Tour Records by visiting www.Liberty-Tour.com, click on "Records" from the navigation bar, then click on "Patriot's Invitational".  You can also view the Liberty Tour Records.  For the Results from the 2017 Patriot's Invitational, click http://essportscouncil.org/liberty-tour/post/patriots-invitational-5272017/.
The next leg of the Liberty Tour is the Constitution Classic on Sunday, June 4th (2:00 pm), and it will be hosted by In A NY Minute at Taconic Hills High School.  For more photos of some of the Record Setting Performances from the 2017 Patriot's Invitational, just scroll down…